Click on Miranda's image to read
Mirror, Mirror...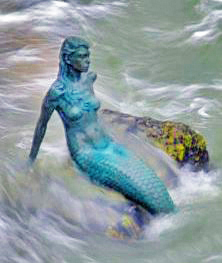 Elsewhere in my website you can read of my fondness for fantasy fiction. This helps explain why of all the wonderful short stories Linda has written, Mirror, Mirror... is my favourite. She has not avoided the nasty side of the mermaid legend, while fashioning a poignant modern story of a man-mermaid romance.
The story also has a hometown ring for me. I was born in Paignton, Devon, on England's southwest coastline along the English channel. So a few years later was Linda, but she has lived her life in Paignton, and does her writing there.
In Mirror, Mirror... Linda was inspired by a local sight, not far away on the River Dart, a statue of a lovely mermaid set on a rocky ledge in the water.
The statue of Miranda is by Brixham (just six miles down the Devon coast) sculptor Elisabeth Hadley in 2005. Mermaid Miranda quickly became a landmark and tourist attraction in the area, and also the inspiration for Linda's touching story.
Click on sculptor Elisabeth Hadley's image to visit her website